Sitia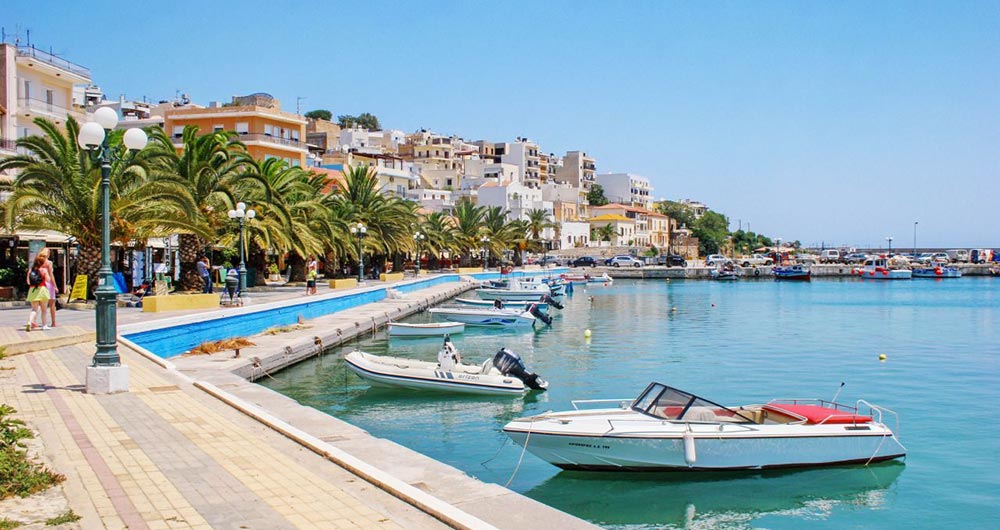 >Sitia is the easternmost city on Crete near the Cape Sidero, 64km from Agios Nikolaos. It is a city with about 10,000 residents, built on the west side of the bay of Sitia, on a warm and dry area. Sitia has the only airport in eastern Crete and the most important port, with ferries running to Piraeus, Milos, Rhodes, Kassos and Karpathos. There are frequent bus services to Ierapetra and Agios Nikolaos, and great efforts are being made to improve the road network linking it with the rest cities of Crete. It is a very well organized city with many shops, tourist facilities, hospitals, banks, etc. The residents work mainly with agriculture and tourism.
In Sitia, apart from swimming in the long beach east of the city, you can stroll in the harbor, enjoy your coffee in the many cafes in the beach road, get lost in the old town with the traditional houses and the picturesque yards, visit the castle Kazarma and the ruins of a Venetian monastery. Moreover, you could visit the Archaeological Museum with exhibits from 3500BC to 500AC, all coming from the wider area of Sitia. A folklore museum exhibition also operates in the town with traditional objects of 19th and 20th century. Lastly, it is worth visiting the local produce stand, where you can learn about the products of Sitia. Among them are olive oil, Cretan wine and raki. Indeed, the oil of Sitia is the best in the world, winning several international awards every year.
Sitia is inhabited since the Neolithic Era. Minoan palatial buildings and walls have been excavated in place Petras and a plate of Linear A has been found there. The city is considered to be built at the site of the ancient Itia or Sitea, which was the home of Myson. Myson has been reported as one of the seven sages of antiquity, replacing Periander. Also, the ancient Etia (another name of Sitia) was Praisos' Port. Praisos was the strongest opponent of Ierapytna city.
During the Byzantine period, the town flourished as a commercial port. The medieval city was a castle, i.e. was protected by a large wall and the fortress Kazarma, located today on a hill near the port.
When the Venetians conquered the island, they gave great importance to the area and tried to fortify it. Sitia then faced a big boom in all sectors and became the largest city in eastern Crete. One of the greatest representatives of Greek Literature was born then, Vitsentzos Kornaros (1553-1613), with his famous love poem "Erotokritos" and the dramatic poem "The Sacrifice of Abraham".
A great earthquake in 1508 and the constant raids of the pirate Barbarossa in 1538 destroyed much of the town. In 1651 the Venetians demolished the fortification, before handing Sitia over to the Turks.
During the Ottoman rule, the city and its castle Kazarma were rebuilt and Sitia was given the Turkish name Avnie. This name lasted only for a while, because Crete was later liberated.
Πηγή: ⭐Travel Guide for Island Crete